Indian Maritime University Signs MOU with 6 Foreign Universities and
Andaman & Nicobar Administration
Maritime India Summit 2016 held in Mumbai from 14 - 16 April 2016 was a great success in terms of maritime investments attracted and MOUs/business agreements signed. The Indian Maritime University, the premier Central University for maritime education, training and research, participated in the Maritime India Summit 2016 and signed 4 MOUs on this occasion with the following premier Universities/Institutes in the presence of Shri Nitin Gadkari, Hon'ble Union Minister of Shipping, Road Transport and Highways:
(1) Plymouth University, Plymouth, U.K (established in 1862).
(2) Admiral G.I. Nevelskoi Maritime State University, Vladivostok, Russia (established in 1890).
(3) Institute of Chartered Shipbrokers, London, U.K (established in 1912).
(4) Bangabandhu Sheikh Mujibur Rahman Maritime University, Dhaka, Bangladesh (established in 2014).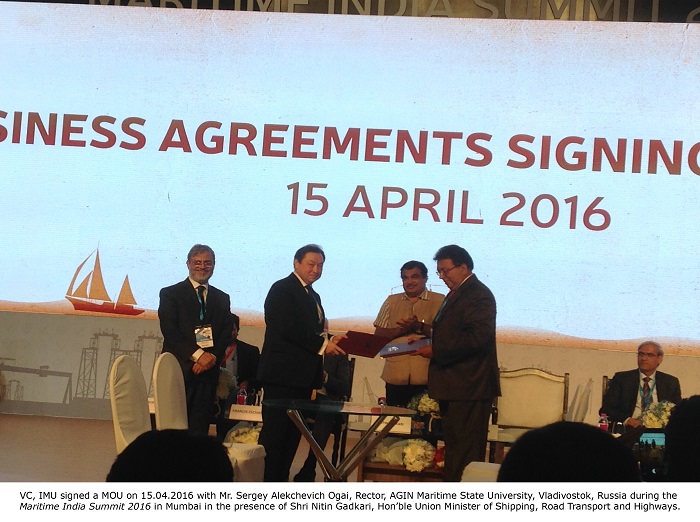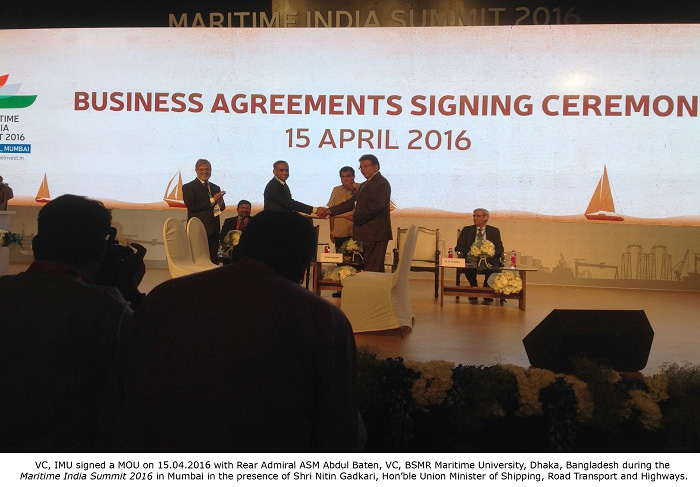 The MOUs aimed at facilitating co-operation between IMU and the Universities/Institutes through:
(1) Faculty and student exchange;
(2) Joint post-graduate programmes;
(3) Academic information exchange; and
(4) Joint arrangement of seminars, symposia, conferences and workshops.
IMU signed a 5th MOU with Andaman & Nicobar Administration, Port Blair permitting it to conduct the Common Entrance Test (CET) for admissions to IMU's programmes for candidates from the Andaman & Nicobar Islands, taking into account the special needs of the islanders. Andaman & Nicobar Administration agreed to provide 120 assured on-board training slots in the vessels owned by it for the students of IMU Campuses.



Subsequently, IMU signed MOU with the following two Universities:


(1) MOU with Universiti Kuala Lumpur, Malaysia in May 2016.
(2) MOU with University of New Orleans, Lousiana, USA in November 2016.